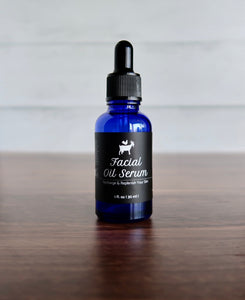 Recharge & Replenish your skin with this premium blend of regenerative, age-defying oils. Brighten and even the look of skin with the highest quality botanical oils of Baobaba, Raspberry, Tamanu, and Green Coffee, along with added Vitamin E to help maintain healthy, youthful lookin skin. Packed with skin-nourishing benefits, our Facial Oil Serum helps reduce the appearance of fine lines and wrinkles, encourages skin's elasticity, and shields against environmental damage. Use as a daily facial moisturizer to enjoy soft, supple skin.

Weight: Your Facial Oil Serum will come in a 1 oz blue glass dropper bottle

Fragrance: Despite containing Lavender Essential Oil, this Oil Serum has a very earthy scent due to the inclusion of cold-pressed, unrefined oils.

To Use: After cleansing, dispense 3-10 drops into the palm of the hand. Using fingertips, smooth over face and neck. This can be used in place of or after applying your moisturizer

Ingredients: Ingredients:
Adansonia Digitata (Baobab) Oil, Calendula Officinalis Flower Extract, Rubus Idawus (Raspberry) Seed Oil, Organic Calophyllum Inophyllum (Tamanu) Oil, Tocopherol (Vitamin E), Coffea Arabica (Green Coffee) Oil, Lavandula Angustifolia (Lavender) Oil, Linalool*

*Naturally occurring in essential oils

Interesting information:
Baobab Oil is non-greasy and is absorbed quickly into the skin. It is rich in vitamins A, D, and E, as well as antioxidants. It helps condition the skin to rejuvenate the complexion, especially in mature or prematurely-aging skin. It also helps repair damage caused by dryness.

Calendula flowers are grown organically on our farm. This herb is known for its active constituents, triterpenoids and flavonoids, that provide anti-inflammatory, antiseptic and astringent properties. Rich in flavonoids and saponins, calendula's constituents can help promote repair and prevent tissue degeneration. Flavoinoids and saponins also help protect the skin from damage causing free-radicals and aid in the metabolism of proteins and collagen to help balance the skin and reduce irritation.
Raspberry Seed Oil is an excellent oil used in cosmetic preparations to carry nutrients to the skin. Rich in skin-soothing components, including Vitamin A and essential fatty acids, it has high levels of tocopherols (antioxidants), which hydrate the skin and leave it feeling soft and smooth.

Tamanu Oil facilitates the growth of newer skin and leaves the skin feeling smoother and softer. It helps to soothe, repair, and diminish redness, scars, stretch marks, irritation, itchiness, dryness, and peeling. It also helps to prevent blemishes from forming, and it protects against the harsh effects of the elements. It also works to reduce age spots and dryness.

Studies have shown that Vitamin E plays a crucial role in protecting the skin from environmental factors. The d-alpha-tocopherol in Vitamin E is also known to help reduce the appearance of fine lines.

Green coffee oil is packed with antioxidants and essential fatty acids for deep moisturizing of the skin and hair. This powerful combination can help reduce fine lines and wrinkles, as well as waking up tired eyes.

Lavender essential oil is one of the most versatile and gentle essential oils. It is an anti-inflammatory superstar that helps reduce redness, blotchy patches, the appearance of wrinkles, and acne scarring.
Please check ingredients for possible allergens and discontinue use if irritation occurs. Products have not been evaluated or tested by the FDA. It is not intended to treat, cure, prevent, or diagnose any disease or condition.
Amazing facial oil serum!
I've used other facial oil serums and this one beats those out. It is lighter than some others and has a fantastic absorption rate. Smells good, moisturizes amazingly well, and is at a terrific price point. Love this serum! Customer for life!
Facial Oil Serum
I absolutely love this serum. I live in Washington state where my skin gets completely dried out in the colder months. I noticed from the first use that it keeps my skin hydrated ALL day long. The bonus part to this product is that it has diminished the redness I have on my cheeks which has been something that has made me self conscious for many years. I will be recommending this to several of my friends and reordering this serum again. Thank you for crafting such an amazing product!!
Amazing!
So I struggle with eczema and super dry skin. Like awful. I have used tons of creams and anything I could find. I bought this little serum at Screws & Sparkles and decided to use it on my eczema! I kid you not, within 5 days I saw a huge difference! & by 2 weeks my skin was completely red free. No peeling, no aching! All gone! I could not believe it. Needless to say this will now be a staple in my bathroom cabinet. 100% recommend giving it a try! I also love that its all natural. Great product!