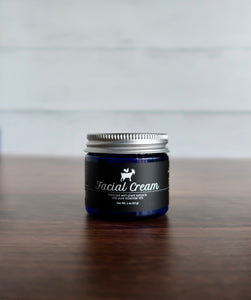 Give your skin the whole nourishment it needs. Our rich Facial Cream is packed full of vitamins and minerals that feed your skin and help repair it, naturally.
Customer review:
"Your facial moisturizer is the BOMB! I try not to wear makeup on the weekends unless I have to go out but now I don't have to. It's evened out my skin tone so I don't look so blotchy and my skin is brighter and I don't see as many fine lines! LOVE IT!!!" - Kendy
Scent: a light blend of pure Bulgarian Lavender and Frankincense essential oils
Weight: Your Face Cream will come in a 2 oz glass container. This size typically lasts 2 months using twice daily.

To Use: After cleansing, apply a pea-sized amount of facial cream to damp face and neck area. For best results use morning and night.

Ingredients: Ingredients: Water, Aloe Vera (Barbadensis Leaf) Juice, Moringa Oleifera (Moringa) Seed Oil, Jojoba (Simmondsia Chinensis) Seed Oil, Cetearyl Olivate, Sorbitan Olivate, Niacinamide (Vitamin B3), Glycerin, Behentrimonium Methosulfate, Cetyl Alcohol, Butylene Glycol, Centella Asiatica Extract, Glycyrrhiza Glabra (Licorice) Root Extract, Raphanus Sativus (Radish) Seed Extract, Colloidal Oatmeal, Tocopherol (Vitamin E), Frankincense (Boswellia Serrata) Oil, Lavender (Lavandula Angustifolia) Oil, Phenoxyethanol, Caprylyl Glycol, Sorbic Acid, Linalool, Limonene*

*naturally occurring in essential oils
Note: all of our essential oils are pure and sourced from reputable suppliers who provide third-party GC/MS testing and reports

Please check ingredients for possible allergens and discontinue use if irritation occurs. Products have not been evaluated or tested by the FDA. It is not intended to treat, cure, prevent or diagnose any disease or condition.
Facial Cream
Exhilarating! Best facial cream as I have tried so many. Leaves my skin soft and non greasy and doesn't clog pores. Thank you for creating a great product!!
Best face cream!
This face cream is wonderful! I use it along with the charcoal face soap, the hydrating facial toner and once or twice a week, the facial oil serum. My face is clear and hydrated all the time now, since I started using these products. Also, I had my first jar of facial cream four months, a little goes a long way. The same is true for all the products. Customer for life!
The best facial cream
This is my absolute favorite product. So hard to really pick a favorite, but if I had to, it would be this cream. It goes on smooth and creamy. Doesn't leave my skin feeling greasy, oily or clogged. I saw a difference overnight. My skin finally feels moisturized. It doesn't take much either, so this will last me awhile! Also, I didn't use it one morning and realized my face still felt hydrated, which has never happened to me before. My make up (which I rarely wear now) goes on even better than before. Thank you Jordan!!
Amazing!!
The facial cream is fantastic. It goes on smooth and is never greasy. I saw my face change almost overnight. I feel very comfortable not wearing makeup because this cream has evened out my skin tone and made my light lines and wrinkles disappear. Nothing else like it. Highly recommended
the Best Facial Cream
First of all, let me say this. When you go to Sephora, can associates tell you exactly how the product is made, when it was made, what is in it? The answer is no. But all of Jordan's products are made by her and she knows exactly what is in it and when and how it was made. That is already a big plus.
Initially, I did feel like I was taking a risk buying facial cream online because there was no opportunity to try it first. But I took a chance.
First of all, I was impressed that I could see when this product was made. (You can see the batch date.)
It does not smell too strong. I say all natural ingredients scent. Nothing artificial.
I get bumps all over face when I'm stressed and if I use wrong products , it gets worse.
First night when I used the cream, I woke up with very smooth skin. Bumps are gone. At the same time, it's very moisturizing but no sticky feeling.
Some facial cream gives me tingly feeling and not this one.
I strongly recommend that everyone tries this facial cream. It is totally worth it. Now it's available to ship all year around!! Great news!