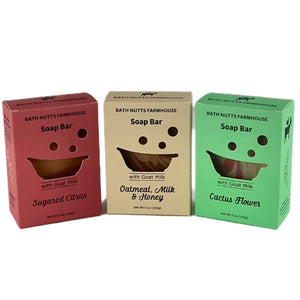 The Suds Bar Bundle is the perfect trio of our best-selling Goat Milk Soaps.
Products Included in this Bundle:
-Cactus Flower Goat Milk Soap
-Sugared Citrus Goat Milk Soap
-Oatmeal, Milk & Honey Goat Milk Soap
Our luxurious goat milk soaps are made with nutrient-rich, raw goat milk sustainably sourced from our family farm. The artisanal recipe provides your skin with an indulgent, creamy lather that helps to naturally cleanse, exfoliate, and nourish without stripping natural oils, leaving your skin soft and radiant.