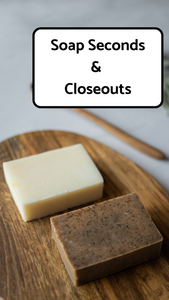 Our Soap Seconds & Closeout sale is a great way to stock up or simply try our soaps at a discounted price. 

50% off our normal price, our seconds are just as luxurious as our mainline products. They may have visual imperfections such as color or texture being off, accidently cut smaller than we would like, or closeout items from previous batches. They are perfectuly usable soaps.
Please note that these soaps will be sold "naked" without any packaging. They likely wont have the nice rounded edges our mainline soap have. 
All sales are final