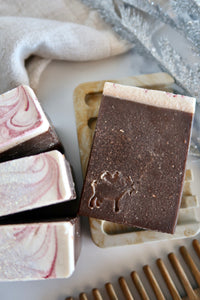 Bold peppermint combined with subtle hints of chocolate and sugared milk make for a smooth, creamy accord. Guaranteed to bring holiday cheer wherever you go!
Weight: approx 5 oz (142g)
Please note that our Soaps are hand cut so actual weight may vary slightly.

Ingredients: Grass-Fed Tallow, Cocos Nucifera (Coconut) Oil, Goat Milk,
Sodium Hydroxide, Fragrance, Raw Honey, Water, Sodium Lactate, Kaolin, Avena Sativa (Oat Kernal) Flour, Titanium Dioxide, Iron Oxide, Tin Oxide, Biodegradable Glitter
Please check ingredients for possible allergens and discontinue use if irritation occurs. Products have not been evaluated or tested by the FDA. It is not intended to treat, cure, prevent or diagnose any disease or condition.