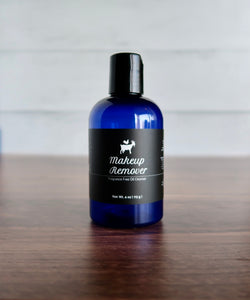 If you are one to wear makeup, you know it can be a beast to remove sometimes. Especially waterproof makeup. Our Cleansing Makeup Remover is gentle on the skin but aggressive on that pesky makeup. It is both fragrance and preservative-free! 
Weight: Your Cleansing Makeup Remover will come in a 4 oz container. 
Due to supply issues, the type of container your Makeup Remover comes in may vary.

To Use: 
For eye makeup removal: Dispense a nickel-sized amount of cleanser onto a cotton round. Gently wipe away eye makeup. Rinse with warm water. 
For a facial cleanser: Wet face with warm water. Dispense a nickel-sized amount of cleanser into your palm and apply gently to your face using a circular motion. Rinse with warm water. Pat dry. Follow up with your favorite moisturizer.

Ingredients: Organic Helianthus Annuus (Sunflower) Seed Oil, Caprylic/Capric Triglyceride, Isopropyl Myristate, PEG 40 Hydrogenated Castor Oil,
Tocopherol (Vitamin E)

Please check ingredients for possible allergens and discontinue use if irritation occurs. Products have not been evaluated or tested by the FDA. It is not intended to treat, cure, prevent or diagnose any disease or condition.