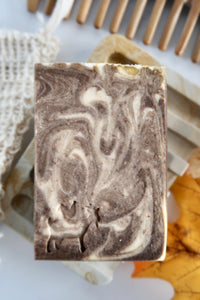 One sniff of this fragrance and you'll be hooked. Our Cinnamon Cocoa Goat Milk Soap is a warm mix of cinnamon, chipotle, cayenne, coffee beans, hot chocolate, nutmeg, cocoa, vanilla extract, and sugar. A unique twist on the traditional hot cocoa.
Weight: approx 5 oz (142g)
Please note that our Soaps are hand cut so actual weight may vary slightly.

Ingredients: Grass-fed tallow, Cocos Nucifera (Coconut) Oil, Goat Milk, Sodium Hydroxide, Fragrance, Sodium Lactate, Avena Sativa (Oat Kernal) Flour, Kaolin, Water, Mica, Titanium Dioxide, Iron Oxide

Please check ingredients for possible allergens and discontinue use if irritation occurs. Products have not been evaluated or tested by the FDA. It is not intended to treat, cure, prevent or diagnose any disease or condition.